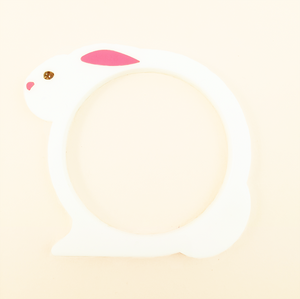 Bunny Bangle Bracelet White
Regular price $15.00 Sale
Our new Bunny Bangle Bracelet is sure to delight all animal Lovers!  The acrylic bracelet is White Acrylic with inlay Glitter eye with a Pink nose and ear.  The back White layer features a coordinating gold star detail.  The Bangle bracelet is a traditional bangle bracelet and is designed to go over the entire hand.
Awesome Bunny Jewelry is year round for your Bunny Lover! Super Cute gift for your On the farm Birthday Girl!  Check out the coordinating Rings!!!  Super Cute!
The Bracelet comes in three sizes 
2  1/8" opening Small   BNNYBR-002SM
2 5/16" opening Medium  BNNYBR-002MD
2  1/2" opening Large   BNNYBR-002LG
Unsure what size you need...cut a circle that is 2 1/8" and test it over your child's hand.